Gêmeos (astrologia)
From Wiki
Jump to navigation
Jump to search
The printable version is no longer supported and may have rendering errors. Please update your browser bookmarks and please use the default browser print function instead.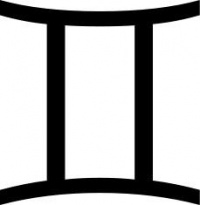 Gêmeos (português brasileiro) ou Gémeos (português europeu), ou ainda Gemini, é o terceiro signo astrológico do zodíaco, situado entre Touro e Câncer/Caranguejo e associado à constelação de Gemini. Seu símbolo são os irmãos gêmeos. Forma com Libra/Balança e Aquário a triplicidade dos signos do Ar. É também um dos quatro signos mutáveis, juntamente com Virgem, Sagitário e Peixes.
Com pequenas variações nas datas dependendo do ano, os geminianos são as pessoas nascidas entre 21 de Maio e 20 de Junho.
Mitologia
Gêmeos está relacionado ao Deus Mercúrio, o mensageiro Alado, filho mais inteligente de Zeus e ao mito de Castor e Pólux: Triste pela morte do irmão Castor em uma batalha contra Idas e Linceu, Pólux pede a Júpiter, seu pai, que o traga de volta à vida. Tocado pela demonstração de amizade dos irmãos, Júpiter determina que Pólux compartilhe sua imortalidade com Castor, alternando diariamente com ele a vida e a morte